Chiman Ismail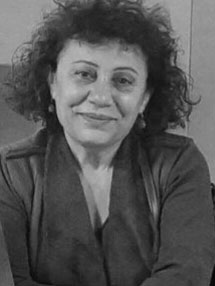 Chiman Ismail Rashan
Biography:
Born in 1966 in Sulaymaniyah. Completed the Fine Arts Academy of Baghdad. She was the director of the Youth Activity Center, a subsidiary of Kurdistan Save the Children. Instructor at the Institute of Fine Arts in Sulaymaniyah.
Experience:
11 solo exhibitions from 1992 to 2018, in Sulaymaniyah.
Solo exhibition in 1993, Germany.
Solo exhibition in 2012, Madrid, Spain.
Author and director of (My City's Game) on the Commemorance of Sulaymaniyah's founding; a performance, 2012.
Author and director of ( A Mobile Lagoon, Filled With Immobile Words); a performance, 2017.
Author and director of the exhibition of (Who Should We Write Letters To? Who Should We Send It To? Who Should We Read It To?); a performance, 2018.
Solo exhibition through social media, in the time of Corona, installation, 2020.
Participated in over 50 exhibitions in the Kurdistan Region and Iraq, 1983-2021.
Participated in collective exhibitions in France, Germany, Holland, Britain, New York, South Korea, Japan, and the Venice Biennale.
Showing the single result